The latest news and information about Herkules products, and our parent company Herkules Equipment Corporation, can be found here.
Mississippi Shop Shares CoAgent Success with FenderBender Magazine
Roger Byrd, owner and operator of a paint and body shop in Tupelo, Mississippi has found it advantageous to add Herkules CoAgent waterborne coagulant to his toolset. To learn more about how this powerful coagulant simplifies waterborne recycling, read the story in the FenderBender magazine.
Our thanks to Roger, and FenderBender, for sharing this customer success story!
Herkules Introduces Updated Crusher
Herkules Equipment Corporation introduced the new OFC1 Oil Filter Crusher at the SEMA Show in Las Vegas.
Available in both bench and stand-alone models, the OFC1 reduces the used oil filter's size by up to 80%, and compresses the metal housing for easy disposal.  With an integrated collection chamber and downspout, the OCF1 captures used oil remnants during the crushing cycle, and simplifies used oil collection for recycling.
The new design makes use of our proven air technology to provide superior crushing power in a compact footprint. The streamlined crusher will not only provide incredible performance, but also look great in any shop.
Quality a Priority in a Paint Gun Washer, according to Body Shop Business
Editors of Body Shop Business proved what Herkules paint gun washer customers have long known; that quality is the key factor when purchasing a paint gun washer. Survey results, reported in the April 2018 issue, (page 48) found that the majority (55%) said that quality was the number 1 criteria for selecting their paint gun washer.
BossLifts by Herkules debuts New Lifts at SEMA
SEMA is a show in Las Vegas that Herkules presents our high quality engineered products. Every day our engineers work hard to produce the very best products for our customers. We stop at nothing less than excellence. We take pride in what we do, so we like to show it off. If you are ever at a show come check us out!
VLA06 is one of our latest and greatest lifts available. This lift gets up to a raised height of 29 inches and lowers down to an impressive 4.25 inches. We took our engineering to new levels, giving a maximum weight capacity of 10,000 pounds and safety stops for numerous height options.
"Shops have embraced our American-made, straight vertical pneumatic lifts, and so we leveraged our vast lift experience to develop additional options," Todd Bacon, Herkules President and CEO remarked. The continued success of BossLifts by Herkules shows that there is a market for quality-built, American-made lifts within the US. To learn more about these and other BossLifts by Herkules offerings, visit www.bosslifts.com for more information.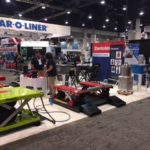 Great Article in Body Shop Business
The Math is simple, but important, as trade magazine Body Shop Business contributor Mike Clark explains. He talks about the strategy he has used for over thirty years to sell product, including Herkules Paint Gun Washers. While he doesn't mention us by name, he talks about the blue tub with the Graco pump.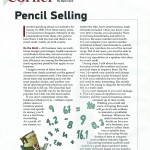 New Cap for Sparkle Clean
How do you improve a great product? Add new features or capabilities; which is why Herkules now offers a new cap for our aerosol paint cleaner Sparkle Clean. Users now have two stream options: wide or narrow enabling users to target a wide area, or focus on narrow chamber, with the flip of the lid. We wanted to provide more cleaning options, and the new cap allows us to do just that. Sparkle Clean already offers a narrow stream through an attached straw; our new cap retains that option, but also enables shops to clean a larger area quickly and efficiently, with a simple adjustment. Effective with either solvent or waterborne paints, Sparkle Clean provides a method to quickly clean stubborn paint off of paint guns immediately. For more information, please contact Herkules by phone at 800-444-4351, email at info@herkules.us, or visit our website at www.herkules.us
Herkules Adds E-Commerce to Website
The powerful Herkules 338 Pump, and pump kits to retro-fit the pump into existing Paint Gun Washers, can now be purchased on-line 24/7 at herkules.us/herkules/pumps.
Herkules Equipment Corporation announced the addition of e-commerce capabilities to the company's website. Herkules is dedicated to providing quality customer service support, and has experienced staff on-site answering questions and orders weekdays. Herkules understands that busy shop operators might not have time to place orders during the day, which is why Herkules felt it was imperative to provide order capabilities 24/7. Herkules looks forward to offering an everincreasing line-up.
Herkules has been manufacturing paint gun washers since 1985, and has many vintage models still in use today across the United States. For more information about Herkules and on-line sales, contact Herkules by phone at 800-444-4351, email at info@herkules.us, or visit our website at www.herkules.us
Herkules Expands Automotive Lift Line
Herkules Equipment Corporation had two new vehicle lifts join the company's BossLifts line. The BossLift VLA06 provides pneumatic lifting power, while the BossLift VLH01 is the low profile hydraulic lift offered by the vehicle lift line. Check out full details on the lifts here.
"The response to our American-made, straight vertical pneumatic lifts was great," Todd Bacon, Herkules President and CEO remarked. "Leveraging the technology and capabilities of our VLA03 lift, we developed two alternatives that offer similar functionality with the different capabilities our customers find valuable." The continued success of BossLifts by Herkules shows that there is a market for quality-built, American-made lifts within the US.
Racing Stars of Tomorrow at SEMA as Riley Herbst and Ashley Sanford Join Herkules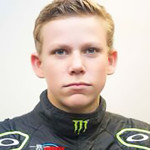 Herkules Equipment Corporation is proud to have hosted two of racing's rising stars at SEMA. Ashley Sanford  and Riley Herbst were great guests as they greeted fans.
An addition to the NASCAR Whelen All-American Series, Herbst was a contender for their Rookie of the Year honors. A third-generation racer who got his start at age 7 racing Go Karts and Trophy Karts, at one time he lead the Irwindale Truck Series standings. Ashley Sanford is a California native drag racing star who races for her family team.
Ashley Sanford